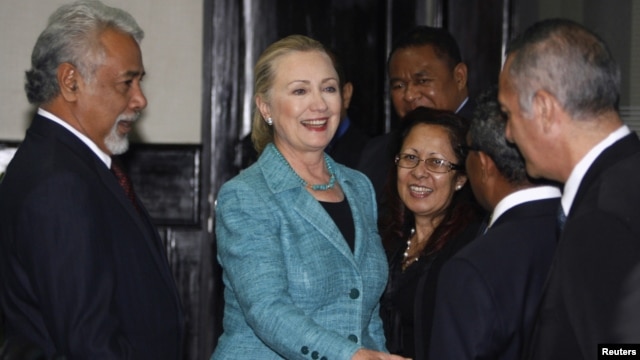 U.S. Secretary of State Hillary Clinton (C) shakes hands with staff members next to East Timor's Prime Minister Xanana Gusmao (L) at the Prime Minister's office in Dili September 6, 2012.

DILI, EAST TIMOR — U.S. Secretary of State Hillary Clinton says Washington will not back away from differences with China about Syria and the South China Sea. Following a rough reception in Beijing Wednesday, Secretary Clinton told reporters in East Timor Thursday that the Obama administration will engage China where it can and stand its ground where it cannot.

Clinton says it is no secret that the United States and China do not always see eye-to-eye.

"The United States, certainly I, am not going to shy away from standing up for our strategic interests and expressing clearly where we differ. The mark of a mature relationship, whether it is between nations or people, is not whether we agree on everything," noted Clinton, "because that is highly unlikely between nations and people, but whether we can work through the issues that are difficult.

Beijing talks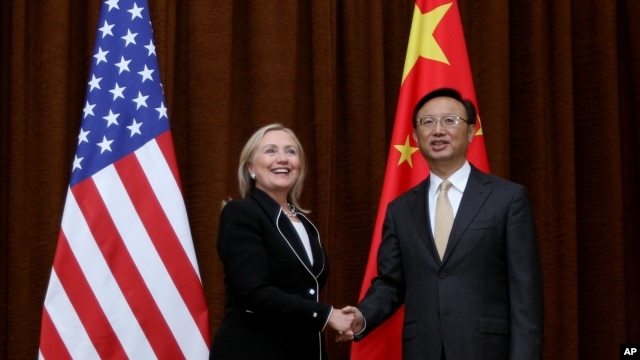 U.S. Secretary of State Hillary Rodham Clinton, left, and Chinese Foreign Minister Yang Jiechi, right, shake hands during her visit to Beijing, Sept. 4, 2012.


Those difficulties were front and center in talks Wednesday with Chinese Foreign Minister Yang Jeichi, who dismissed the validity of rival territorial claims in the South China Sea and criticized the United States for interfering in Syria's domestic affairs by supporting rivals to embattled President Bashar al-Assad.

Despite that rough reception - which included personal attacks in the state-run media - Clinton said it was an important exchange of views ahead of this week's summit of the Asia Pacific Economic Cooperation forum, this month's meeting of the U.N. General Assembly and November's East Asia Summit.

Tensions between China and the United States have grown, with the Obama administration's greater economic and military focus on the region - its so called "Asia Pivot." Clinton says the pivot is not about confronting China. It is about sending a clear, unmistakable message that the United States will remain a resident Pacific power.

"We are not here against any other country. We are here on behalf of our partnerships and relationships with countries in the region," Clinton said. "We happen to believe that Asia and the Pacific are quite big enough for many countries to participate."

Partnership

The secretary of state spoke to reporters in Dili following talks with East Timor Prime Minister Kay Rala Gusmao. Clinton says the United States wants his country to have as many partners as possible both in the region - Australia, Japan, China, and Indonesia and beyond - because Washington believes it is in everyone's interest to support democracy and economic development here.

Clinton is the first American secretary of state to visit East Timor since its independence from Indonesia 10 years ago. East Timor is one of the poorest countries in the region, with little infrastructure and an estimated 70 percent of people unemployed or underemployed.

Asked about efforts to hold accountable those who committed human rights abuses during the fight against Indonesian occupation, Prime Minister Gusmao says what the young country needs more is peace.

"It is difficult to talk about this when we need to have good relations with our closest neighbor [Indonesia] with which we have more than 70 percent of trade. We have to see the future, to move forwards," Gusmao said.

He added that the country has a truth commission to look into "its own crimes and its own mistakes". As for a larger investigation into the past, the prime minister says, "One day in the future maybe it can be an issue that we can deal with."