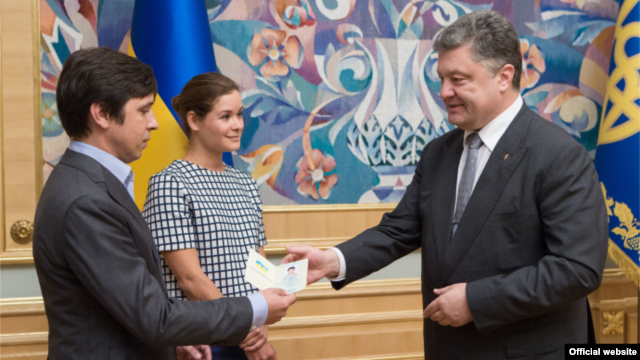 President Petro Poroshenko (R) hands a Ukrainian passport to Vladimir Fedorin as Maria Gaidar looks on, at a ceremony in Kyiv, Ukraine, August 4, 2015. (Photo source - president.gov.ua)

Ukraine has granted citizenship to the daughter of a former Russian prime minister and a prominent journalist, both of whom are vocal Kremlin critics.

Maria Gaidar and Vladimir Fedorin were handed Ukrainian passports Tuesday by President Petro Poroshenko during a brief ceremony in Kyiv.

"Your example clearly demonstrates that one cannot be silent, that one has to be able to be at peace with one conscience," Poroshenko said, alluding to Gaidar's and Fedorin's denunciation of Russia's annexation of Crimea and its role in the ongoing conflict in eastern Ukraine, according to a statement published on the presidential website.

"Your neutral position, thoughts and information from Ukraine that you can provide as an alternative to Kremlin propaganda are very valuable for millions of Russians," Poroshenko said, adding that the most the two can do today for Russia is to "ensure Ukraine's success."

Gaidar, daughter of Russia's first post-Soviet prime minister Yegor Gaidar and a politician in her own right, was appointed last month to serve as a deputy governor of Ukraine's Odessa region. Her appointment caused a furor in Russia, where many have accused her of betraying her homeland.

[B]'Common enemy'[/B}

Gaidar was quoted by the presidential website as saying that for her, becoming a Ukrainian citizen was a landmark decision.

"I am here during these trying times for Ukraine to share in the fate of the Ukrainian people. We have a common enemy – an authoritarian regime that is killing people both in Russia and here," she said. Gaidar said she will do all she can "to defeat this enemy and to show that there is a different path – a path of freedom, democracy, respect, partnership and good neighborly relations."

Gaidar, who in the past held regional government positions in Russia, has long been known as a fierce critic of President Vladimir Putin. She is said to have left Russia for Ukraine earlier this year.

Fedorin, a respected journalist and former editor-in-chief of Forbes-Ukraine, has been living in the country for several years and described becoming a Ukrainian citizen as "likely the most pivotal decision in my life."

Poroshenko's website quoted him as calling Ukraine a beacon of freedom in the post-Soviet space, one "that gives hope to the peoples of the former USSR to become members of the global family of free nations."

Russia has denied involvement in the conflict in eastern Ukraine and rejected criticism of its controversial decision to annex Crimea, following a regional referendum that was condemned as illegal by Kyiv and the West.