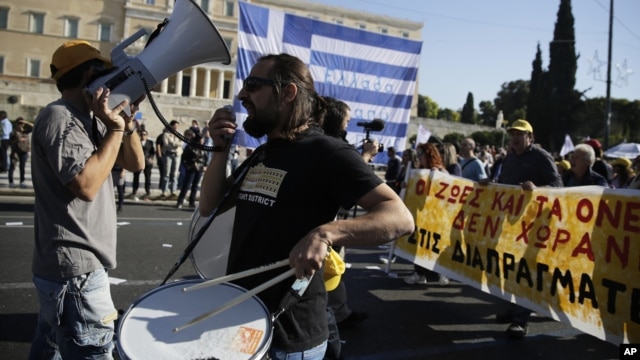 Part of a 24-hour nationwide strike, demonstrators protest against the government's austerity policies outside the Greek Parliament in Athens, Nov. 12, 2015.

ATHENS—
Striking Greeks took to the streets Thursday to protest austerity measures, setting Alexis Tsipras' government its biggest domestic challenge since he was re-elected in September promising to cushion the impact of economic hardship.

Flights were grounded, hospitals ran on skeleton staff and public offices stayed shut across the country in the first nationwide walkout called by Greece's largest private and public sector unions in a year.

Public transport also was severely disrupted. The Athens metro and suburban railway shut down while bus and trolley routes were reduced and ferries remained tied up in port, severing connections between islands and the mainland. More than a dozen domestic flights were also canceled.

Journalists also walked off the job, pulling news bulletins off the air except to report on the strike. News websites were not being updated, while no Friday newspapers were to be printed. Lawyers, too, were scaling back their work.

Protests turn violent

As Greece's foreign lenders prepared to meet in central Athens to review compliance with its latest bailout, thousands marched in protest at the relentless round of tax hikes and pension cutbacks that the rescue packages have entailed.

Nearly 25,000 people were marching in three separate demonstrations, according to police figures. A march by a Communist-backed union gathered around 15,000 people, while 4,000 or so participated in a labor union demonstration and another 5,000 joined in a protest organized by anti-establishment and anarchist groups.

Another 10,000 marched through the country's second-largest city of Thessaloniki.

Tensions briefly boiled over in the city's main Syntagma Square, where a Reuters witness saw riot police fire tear gas at dozens of black-clad youths who broke off from the march to hurl petrol bombs and stones and smash shop windows near parliament.

Some bombs struck the Greek central bank.

Police sources said three people were detained before order was restored.
Frustration grows for citizens

Five years of austerity since the first bailout was signed in 2010 have sapped economic activity and left about a quarter of the population out of work.

"My salary is not enough to cover even my basic needs. My students are starving," said Dimitris Nomikos, 52, a protesting teacher said.

"They are destroying the social security system ... I don't know if we will ever see our pensions."

Other protesters voiced similar frustrations.

"I believe strikes can turn into a boomerang for the worker, but there are times when people need to react,'' said 61-year-old Yannis Nikolaidis as he marched in the protest near parliament. "This is the time when people need to react. Enough already with the taxes, enough with the double talk. They need to let us breathe.''

Tsipras came to power in January promising to end the austerity. He then accepted the unpopular terms of Greece's third bailout when faced with the prospect of an exit from the eurozone.

Syriza party backs strike

Illustrating the political juggling act the prime minister is trying to pull off, his own Syriza party came out in support of Thursday's strike, saying industrial action strengthened the government's hand in talks with lenders.

The bailout review talks with the European Union and International Monetary Fund inspectors resumed Wednesday.

The negotiations center around reaching an agreement on the disbursement of a 2 billion-euro installment ($2.2 billion), as well as 10 billion euros set aside for the recapitalization of Greece's banks.

While Greece has met many of the requirements, it remains at odds with creditors over how to deal with non-performing loans and the repossession of homes whose owners have fallen into arrears on mortgage payments.

Government spokeswoman Olga Gerovasili denied suggestions that leftist Syriza, which fought against austerity when it was in opposition, was trying to play both sides in supporting the anti-austerity strike.

The party has said it will implement its side of the bargain with lenders, but has long maintained that the bailout terms are excessively harsh.

"We are implementing an agreement which includes [bailout] measures which are unfair," Gerovasili said
But Syriza's dilemma cut little ice with some of the thousands of protesters who converged on the city's main Syntagma Square.

"It's a tactic of Syriza to disorientate the people from targeting the party," said Ilias Leggeris, 63, a retired bank worker.

'I cannot take it anymore'

Demonstrators held pink balloons with "The Promises of Alexis" written on them, suggesting his words were empty. Municipal workers in the crowd wore florescent vests with a "not for sale" sign stamped on their backs.

A group of musicians added a surreal touch with a rendition of the 50's classic "Rock Around the Clock" as they marched through the square.

"I cannot take any more," said Irini Kasidokosta, 72, a retired teacher who has seen her pension cut by 50 percent over six years.

She directed her anger against both Tsipras and the lenders. "I wish Tsipras had done what he promised [to overturn austerity] but they didn't let him," she said. "Now we have turned into beggars for a plate of food."

Visiting tourists were disappointed to find monuments shut.

"We didn't really know that there was going to be a strike, we just kind of arrived and we planned for this one day in Athens and we kind of wanted to see that thing [the Parthenon]," one tourist from Alaska said.