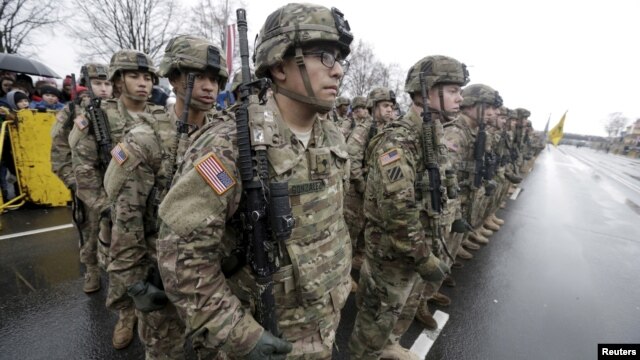 U.S. troops participate in Latvia's Independence Day military parade Nov. 18, 2015, in Riga, Latvia. With signs growing of a thaw between Moscow and Western capitals, some of Russia's neighbors fear a dip in European resolve over the Ukraine crisis.

TALLINN, ESTONIA —
With signs growing of a thaw between Moscow and Western capitals after the Paris attacks, some of Russia's neighbors fear that European resolve to keep up economic sanctions and military pressure over the Ukraine crisis may be waning.

Alarmed by Russia's seizure of Crimea last year and support for pro-Kremlin rebels in eastern Ukraine, the Baltic states of Estonia, Latvia and Lithuania along with Poland are some of Europe's most hawkish countries on relations with Moscow.

They are wary of Russian backsliding on implementing a Ukrainian cease-fire deal agreed in February, and that the thorny issue may have become secondary for some European powers more eager to unify against the Islamic State after last Friday's carnage in France.

"There cannot be bargaining over compliance of the [cease-fire] conditions," Estonian Prime Minister Taavi Roivas said, insisting the deal must be fulfilled to the last letter.

"Cooperation elsewhere does not mean for Europe concessions in its neighborhood," he told parliament Tuesday.

But the Paris attacks and last month's downing of a Russian airliner over Egypt, both claimed by the Islamic State, have created a sense that Western capitals and Moscow have a common interest in battling the militants.

This has increased pressure for greater cooperation, effectively easing Moscow's international isolation.

President Vladimir Putin has ordered Russia's military to coordinate with France over airstrikes on the Islamic State in Syria and President Francois Hollande is due next week to make the first visit to Moscow by a Western leader in six months.

Poland voices region's suspicions

European Union leaders say the sanctions, which are due for review at the end of January, can be removed only when all signatories to the cease-fire deal, including Russia, comply with its terms fully.

But Konrad Szymanski, Poland's Deputy Foreign Minister in charge of European Affairs, expressed the region's suspicions.
"There has been – and not since today, I'm afraid – a short-term instinct to seek any good excuse to back down on the appropriate and proportional response to Russia's aggression in Ukraine," he told reporters.

Last Saturday, the Ukrainian military reported five of its soldiers had been killed in the past 24 hours, its highest death toll since the fragile cease-fire began two months ago.

The guns have been mostly silent since early September, but there has been an increase in violations over the past few weeks, with both sides blaming the other.

Region's fears predate attacks on Paris

Worries in the region – where memories of Soviet rule just over two decades ago remain fresh among politicians and voters alike – long predate the Paris attacks.

Latvia, Lithuania and Estonia have ethnic Russian minorities and were unnerved when Putin declared last year that Moscow had the right to intervene with military force if necessary to protect Russian speakers abroad. Frequent Russian air incursions near Baltic airspace have added to jitters.

Leaders of nine central and eastern European and Baltic states declared earlier this month that they were gravely concerned by Russia's "continuing aggressive posturing" and backed a sustainable NATO military presence in the region.
"The Russian-made crisis in Ukraine cannot disappear from the agenda," Lithuanian Foreign Minister Linas Linkevicius said in an interview with BNS news agency, published Monday after a meeting of EU foreign ministers in Brussels.

Any signal that EU resolve was weakening would not be the first time East European countries have been frustrated at what they see as European powers being sidetracked from standing up to Russian assertiveness.

For years after the attacks on the United States on Sept. 11, 2001, the Baltic states warned that NATO was ignoring its European borders due its focus on Iraq and Afghanistan. There was an "I told you so" attitude after fighting between Russian and Georgian forces in 2008, followed by the 2014 Crimean annexation and conflict in eastern Ukraine.

Since 2014, the United States has kept about 150 troops in each Baltic state, in overlapping rotations. Britain, Germany and Portugal deployed similar-sized detachments. But Baltic calls for permanent NATO troops have fallen on deaf ears.

"Geopolitically, Russia has a great opportunity to play a geopolitics game and come out of isolation," said Laurynas Kasciunas, head of Eastern Europe Studies Centre in Vilnius. "A great challenge to European unity is ahead of us."

Still, Ukraine will not go away as an issue. East Europeans will continue their campaign to remind the rest of Europe that it can be risky to ignore the region.

"The Ukrainian crisis is like a suitcase without a handle - neither Europe nor the United States can walk away from it," said Volodymyr Fesenko, an analyst at Kiev's Penta political research center.