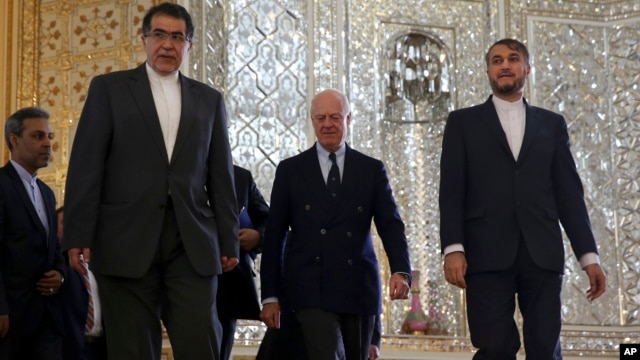 U.N. Special Envoy for Syria, Staffan de Mistura, center, arrives for a meeting with Iranian Foreign Minister Mohammad Javad Zarif, as he is accompanied by deputy Foreign Minister, Hossein Amir Abdollahian, right, in Tehran, Iran, Jan 10, 2016.

The United Nations special envoy to Syria met with Iranian Foreign Minister Mohammad Javad Zarif in Tehran Sunday, describing the discussions as "useful" ahead of upcoming peace talks later this month.

"Like he had done when he visited Saudi Arabia on January 5, he asked and obtained the assurance of his interlocutors that current tensions in the region would not affect the engagement of their government in supporting the Vienna process and facilitating the holding of the Geneva talks,'' Staffan de Mistura's office said in a statement.

Last week, de Mistura met with Syrian opposition officials in Saudi Arabia, which supports Syrian President Bashar al-Assad's opponents, and on Saturday he met officials in Damascus, which announced it was ready to attend the talks but wants to make sure that no "terrorist" groups would be represented.

De Mistura said Sunday that Iran had assured him that its diplomatic row with rival Saudi Arabia would not affect the Syrian peace talks.