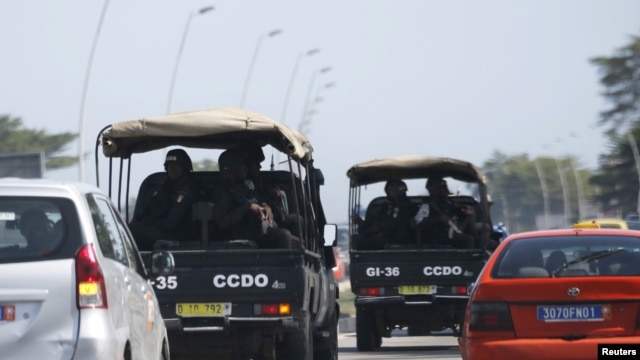 Security forces drive towards Grand Bassam in Abidjan, Ivory Coast, March 13, 2016.

Authorities in Mali say two men with alleged links to al-Qaida in the Islamic Maghreb (AQIM) have been arrested in connection with terror attacks earlier this month in Ivory Coast that left at least 19 people dead.

Police on Sunday said the two suspects were arrested in the past 48 hours in northern Mali, two weeks after the March 13 gun and grenade attack on three hotels and a beach in the Ivorian resort town of Grand-Bassam.

Police identified one of the suspects, Ould Mohamed, as a driver who brought the attackers to Ivory Coast. The French news agency quotes police sources as saying he is believed to be a close confidant of the mastermind behind the Grand-Bassam attacks.

Local prosecutors, speaking last week, said 15 other suspects are in custody.

The North Africa branch of al-Qaida also has claimed responsibility for a hotel assault in November in Mali that killed 20 people, and a similar attack in January that killed 30 others in Burkina Faso. Most of the dead in both attacks were identified as foreigners.

AQIM has it roots in the Algerian civil war of the 1990s, and pledged its loyalty to al-Qaida in 2006. In 2012, AQIM and its allies seized control of northern Mali for nine months, before being driven toward the Algerian border from Malian urban centers by a French-led military force in 2013.

Analysts and security officials in Mali say the militant group has in the past year become more visible in northern Mali, where it has seized control of some local roadways and established a presence in local community meetings.